In March 2016, the PRISM Quartet concertizes in Philadelphia, New York City, and Ann Arbor with programs that feature guest appearances by piano virtuoso Marilyn Nonken, and jazz saxophone greats Diego Rivera and Andrew Bishop. The programs include world premieres of 15 new works by a stunning line-up of composers.
Click here for videos of the composers talking about their new works for PRISM.
PHILLY: PRISM Quartet Performs Two FREE Concerts of World Premieres by UPenn Composers
Guest Appearance by Marilyn Nonken, Piano
The culmination of a season-long residency at the University of Pennsylvania, PRISM presents new works from faculty and student composers James Primosch, Anna Weesner, Jay Reise, Andrew Davis, Marc LeMay, Jacob Walls, Finola Merivale, Kevin Laskey, Kai-Young Chan, and Joshua Hey. Plus premieres by Kyle Bartlett, Ben Hjertmann, and Jane Lange, and performance of past PRISM commissions from UPenn alumni Jennifer Higdon, David Ludwig, and David Laganella.
Presented by University of Pennsylvania Department of Music and PRISM Quartet, Inc. with support from The Presser Foundation
March 18th and 19th @ 7:30 PM
University of Pennsylvania, Rose Recital Hall
3340 Walnut Street (4th Floor), Philadelphia, PA 19104
Free admission, but tickets are required
Click here for info, and to order free tickets. box office: (800) 838-3006
NYC: PRISM Quartet Presents World Premieres at Tenri Cultural Institute
Guest Appearance by Marilyn Nonken, Piano
A repeat of PRISM's March 19th concert in Philadelphia, this program features Awake, Alive, Amok, Ajar by Ben Hjertmann, winner of the 2015 Barlow Prize from Brigham Young University, which commissioned the work for a consortium of three saxophone quartets: PRISM, Zzyzx, and the United States Air Force Band Saxophone Quartet. (Hjertmann was selected for the Barlow Prize from 280 composers worldwide.)
Three works on the program–Stratigraphy by James Primosch, Side Streets (to the memory of Jimmy Giuffre) by Jay Reise, and Vamp by Anne Weesner–come from faculty members of the University of Pennsylvania, where PRISM is conducting a season-long residency.
The program also features Unfolding by Kyle Bartlett, founding member of the acclaimed New York-based new music ensemble, counter)induction, and Somewhat Music, Mostly Noise by Jane Lange, winner of the 2015 PRISM/Walden School Commissioning Award, made annually to an extraordinary student from the Walden School for Young Composers in Dublin, New Hampshire.
Sunday, March 20, 2016 @ 2:00 PM
Tenri Cultural Institute
43 W 13th Street, New York, NY 10011
Tickets: $22 general admission, $17 students. $3 more at he door
Tickets and info, box office: (800) 838-3006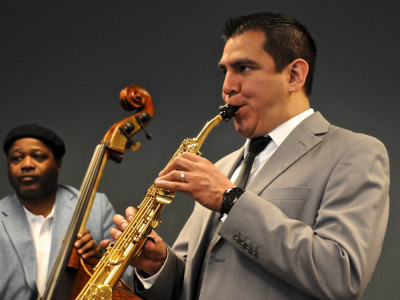 ANN ARBOR: PRISM Quartet, Diego Rivera and Andrew Bishop Join Forces for All-Saxophone Concert
Featuring the World Premiere of William Bolcom's Schumann Bouquet
The PRISM Quartet presents a concert of intriguing music that bridges the saxophone's dual histories in classical music and jazz. PRISM is joined by jazz saxophone greats Diego Rivera and Andrew Bishop for three works on the program:Improvisations by Chris Potter, "one of the most studied (and copied) saxophonists on the planet" (DownBeat), Found by PRISM's own Matthew Levy, and Dave Liebman's arrangement of the John Coltrane ballad, "Dear Lord." The program also spotlights PRISM in performances of "Radical Alignment" from 15 Places At The Same Time by Steve Lehman, Leafless Trees by David Laganella, and the world premiere of Schumann Bouquet, Pulitzer Prize-winner William Bolcom's new adaptation of piano works by Robert Schumann.
Saturday, March 26, 2016 @ 8:00 PM
Northside Community Church
929 Barton Drive, Ann Arbor, MI 48105
$22 general admission/$17 students, $3 more at the door
Tickets and info, box office: (800) 838-3006